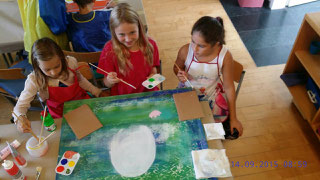 Am Sonntag den 28. November um 18:00 werden die Ergebnisse vom Workshop Artists and Kids (Kinder übermalen Bilder von Künstlern) in einer Charity-Benefiz-Auktion im Künstlerhaus versteigert.
Jeder ist willkommen, Eintritt frei.
Welche Künstler mit dabei waren?
http://artistsandkids.blogspot.co.at/p/kunste.html
---

EN
Three Days we were painting with children of primary schools in Vienna. It was fun and it will help other children in need.
The project "Artists & Kids" shows the interaction between artists and children in the course of a workshop based in Viennese primary schools. The final artworks will be auctioned on 28th of November 2015 at the Künstler Haus Wien.
The auction proceeds goes to the club KüKiki (Artist and Children Helping Children). For the workshop I prepared 3 canvases. The kids overpainted the whole canvas to the finished artwork. More at Artists & Kids